Cheap Thrills: 5 bikes that excite for less than Rs. 1 lakh (Cruisers excluded)
Power, performance, efficiency, usability, handling, looks, low maintenance and great resale value – a difficult conundrum to solve, but motorcycle makers have to oblige if they want to sell any metal to us Indians. Liquid cooling, projector lamps, full and half fairings, rear-sets, clip-ons and what not – the bike makers are mixing and matching those bits to come up with the most sumptuous recipe that can be served for less than a hundred thousand bucks. So which one is the most delicious of them all? Well, every man has his own poison – so while twin headlamps do it for some, the other are sold on a chiselled tank. Some care for the chassis and suspension, while the other put their money on machines that make them look good. So here it is, our list of the five best motorcycles for less than one lakh rupees – in no particular order.
The Bajaj Pulsar AS 200
The Bajaj Pulsar AS (Adventure Sport) 200 is essentially the 200NS with a semi fairing, a projector headlamp and a touring oriented windscreen. In short, it's a whole lot of motorcycle for the money – arguably the best of the lot. The change in the body shape, which differs from the 200NS, helps it gain some points with reference to the aerodynamics. The comfortable riding position, a sorted chassis and a capable engine makes it a versatile machine. Powered by a 199.5 cc liquid-cooled engine with a peak power output of 23.5 PS at 9500 rpm and a peak torque of 18.3 Nm at 8000 rpm, the purported 'Adventure Sports' machine from Bajaj is a great do-all option for those on a budget. Trust the AS 200 to deliver a healthy efficiency figure of 35-40 kmpl, with appreciable performance. Other features include a 12 litre fuel tank, disc brakes up front and tubeless tires.
The AS 200 retails at a price of Rs.93,552.
Also read: top 5 performance bikes for Rs 1.5 lakh
The Hero Karizma R:
Though long in the tooth now, and bordering on to getting extinct, the Karizma R still manages to make it to the list owing to its sporty, fully faired appearance, a reasonably potent engine and an affordable price tag. Though somewhat obsolete now, the Karizma R tries its bit to offer a package blending an affordable sports bike with a tourer. It can clock triple digit figures at ease, while still offering reasonable protection against wind at those speeds. The Karizma ZMR, even with all its age may present its case to the folks who don't prefer naked street bikes. The Hero Karizma R is powered by a 223 cc, air-cooled engine with a peak power output of 19.2 PS at 7500 rpm and peak torque of 19.35 Nm at 6000 rpm. Other details include a 15 litre fuel tank, disc brakes up front and  tubeless tires.
The Hero Karizma-R retails at a price of Rs 85,000.
The Suzuki Gixxer / SF :
A resident of the 150cc territory, the Gixxer isn't exactly a motorcycle which will enthrall with its output numbers or outright performance. Yet, the motorcycle has won every enthusiast's heart with its aggressive styling, sorted dynamics and some solid grunt from that rather small 155cc motor. Further helping the Gixxer's cause is its all digital instrument display, which looks quite jazzy. The motorcycle, with its muscular, chiseled looks, solid build quality and racy appeal has re-established Suzuki Two-Wheelers India as one of the leaders in the 150cc segment single-handedly.
The Suzuki Gixxer 150 is powered by a 155 cc, air-cooled engine delivering a peak power output of 14.8 PS at 8000 rpm and peak torque of 14 Nm at 6000 rpm. The Gixxer is also available in a faired version, known as the Gixxer SF. Engine and other features remain the same, with the only difference being the full fairing.
The Suzuki Gixxer 150 retails at a price of Rs. 76,430.
The TVS Apache RTR 180 ABS:
TVS has a rich history of racing in India. The Apache RTR 180 ABS, as projected by its maker, is the only desi race bred machine on offer. The performance oriented, sporty machine is a tool of choice for those who give more importance to handling than outright power or a fully faired styling. Though its been long since the motorcycle was first launched, it still manages to look rather good with its balanced proportions and an aggressive stance. The DRL's on the motorcycle, which were a first for any mainstream bike manufacturer in India, add a bit more zing to the bike's visual character. TVS have also launched a new, limited edition matte blue paint job for the motorcycle, and it looks rather good.
The TVS Apache RTR 180 is powered by a 177.5 cc, air-cooled engine delivering a peak power output of 17.03 PS at 8500 rpm and peak torque of 15.5 Nm at 6000 rpm. The bike boasts of a 16 litre fuel tank, petal disc brakes up front and at the rear, tubeless tires and most importantly, ABS (Anti-lock Braking System).
The TVS Apache RTR 180 retails at a price of Rs. 86,622.
The Pulsar 220:
Once one of the most desirable motorcycles in the performance segment, the Pulsar 220 has lost its sparkle with the advent of new, more modern and more powerful machines. The old warrior from Bajaj, however continues to soldier on – refusing to resign before a spirited struggle. Even with an old engine and not-too-great dynamics, the 220 has the power and torque on its side, and with its strong mid-range, can give the new boys on the block a run for their money. The Pulsar 220 was launched with some of the best features in the market such as clip on handle-bars, projector headlamp, an oil cooled engine and rear disc brakes. The bike went on to become a hit. It was the flagship model under the Pulsar sub-brand until the RS 200 took over the reins. The Pulsar 220 is powered by a 220 cc, Air-Cooled engine with peak power output of 21.04 PS at 8,500 rpm and a peak torque of 19.2 Nm at 7000 rpm. Fuel tank capacity of the motorcycle stands at 15 liters, the bike gets tubeless tires and disc brakes at the front as well as the rear.
The Pulsar 220 retails at a price of Rs. 81,411.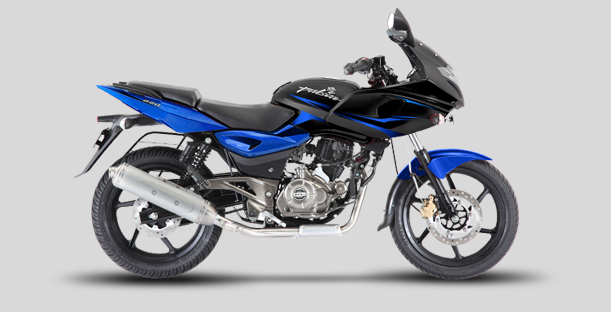 Note: All prices are Ex-Showroom, Delhi.
What do you think about these models? Which one is your favourite? Let us know your opinions via comments.
,
,
,
,
,
,
,
,
,
,
Motoroids Comments
Facebook Comments